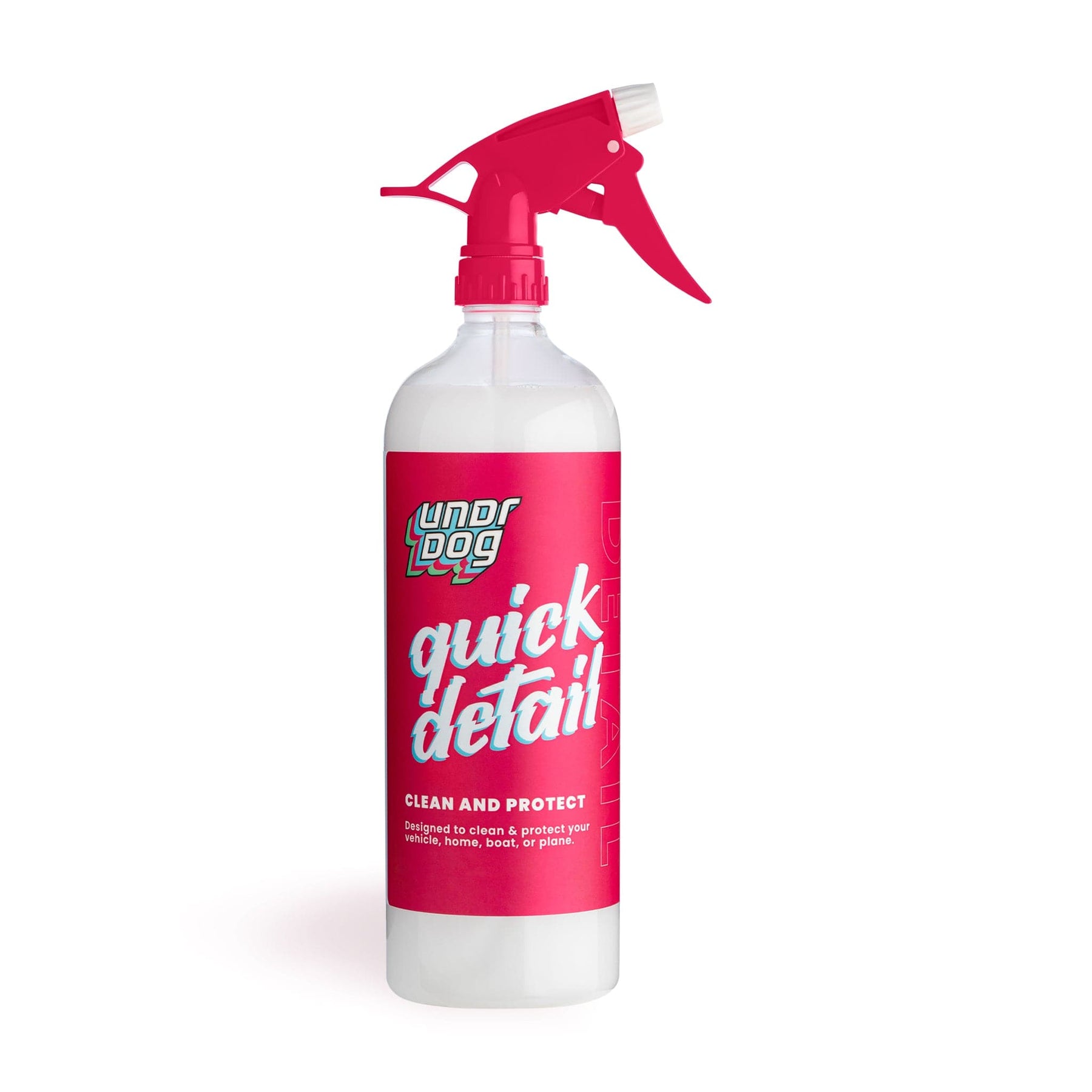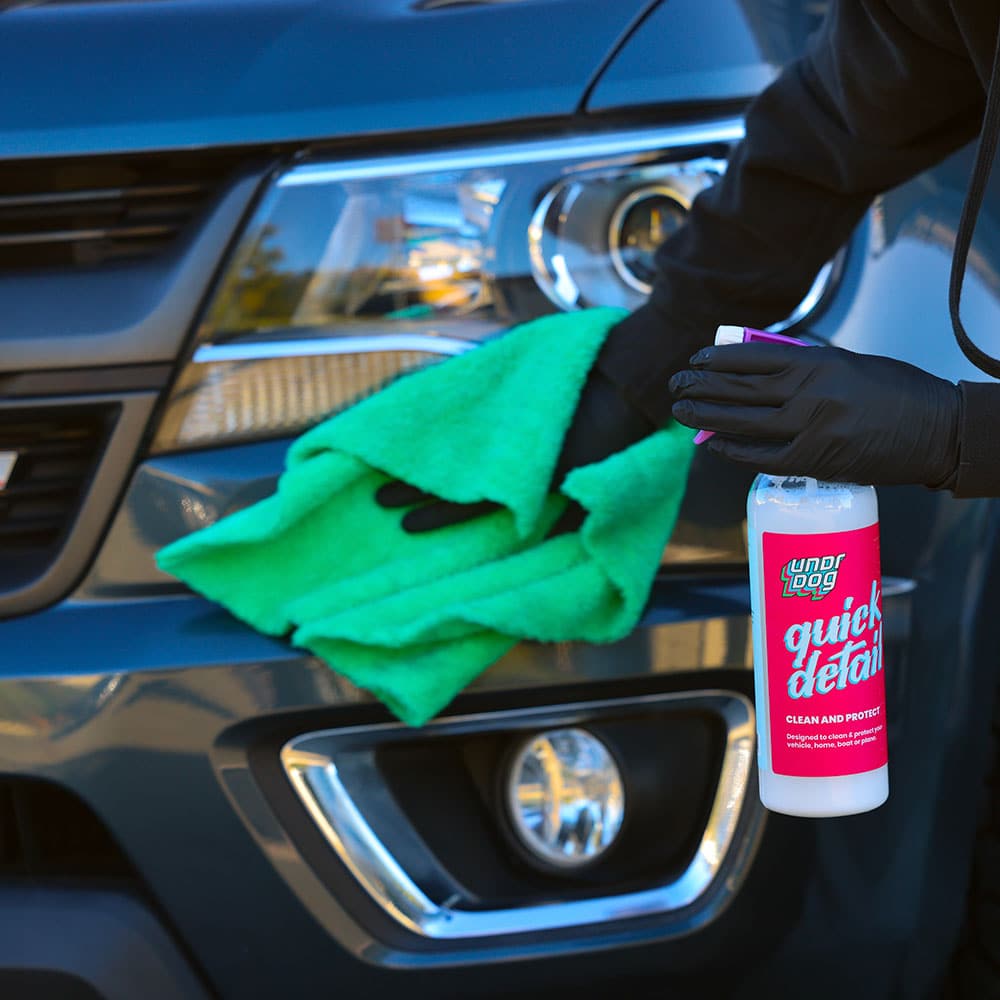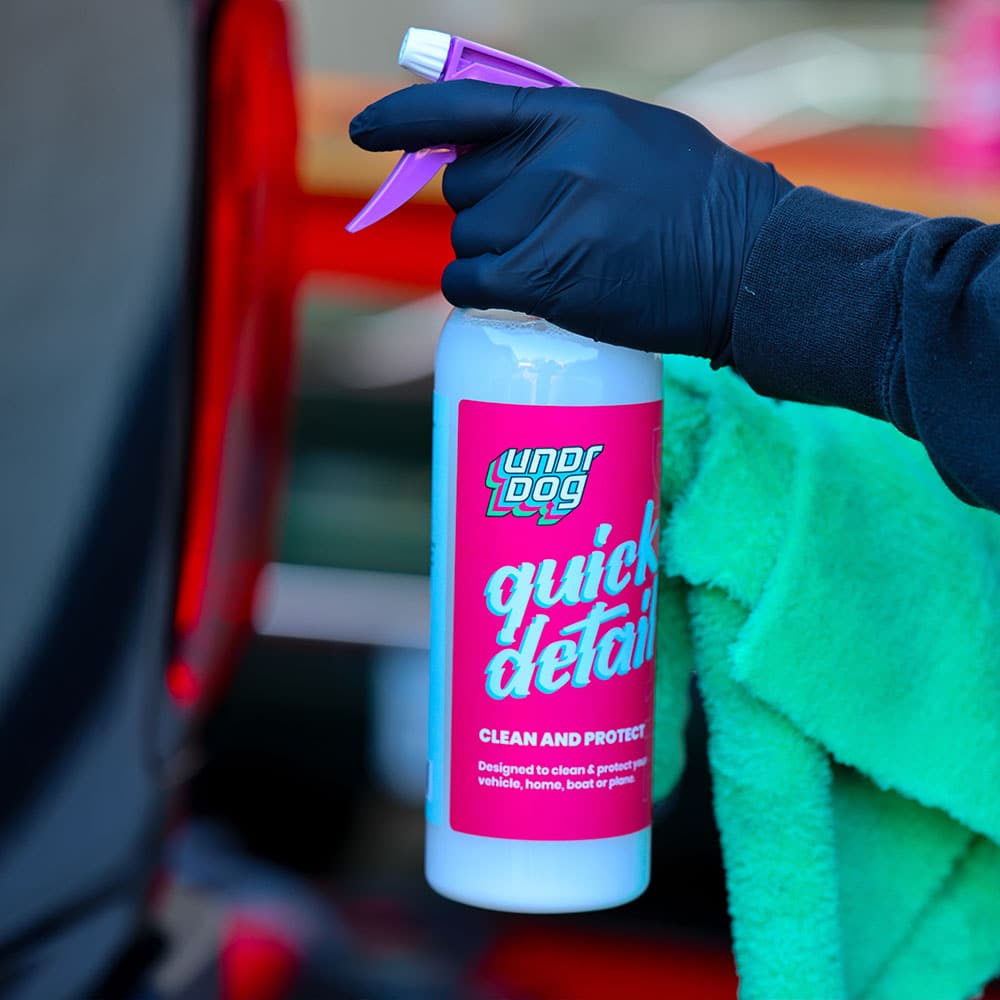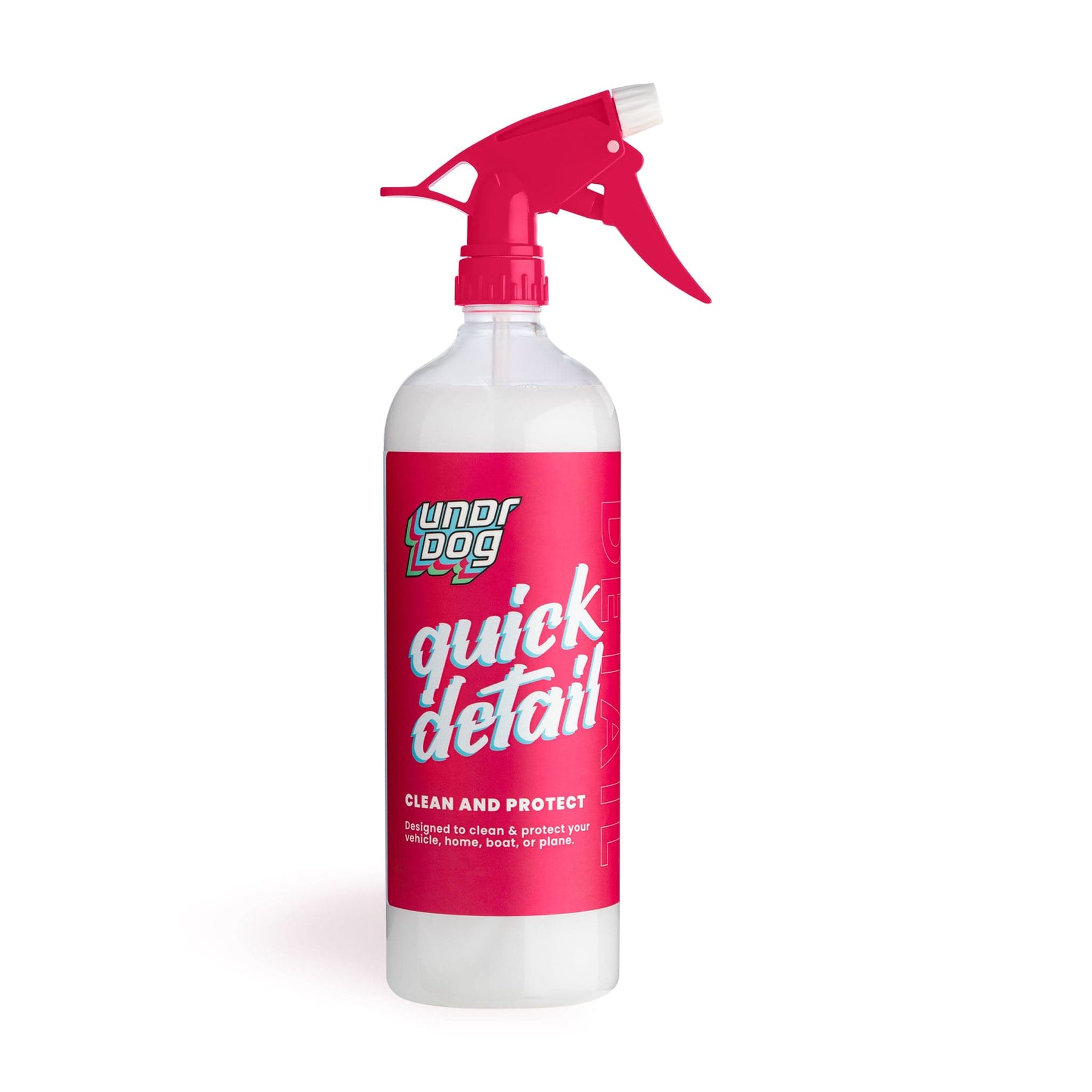 Quick Detail
Hydrophobic, Spray Protectant
Sprayable protective coating that keeps your vehicle looking cleaner for longer. QD adds awesome gloss and hydrophobicity to all surfaces.
Pickup available at Frisco HQ
Usually ready in 1 hour
Frisco HQ
Pickup available, usually ready in 1 hour
122 Rose Lane
Suite 201
Frisco TX 75036
United States
+14697707263
Everything you need to know about Quick Detail
Useful Stuff 👇
Hydrophobic spray cleaner, designed to be applied month to month and in between washes. It can clean and protect your vehicle, motorcycle, home or boat by providing excellent dirt-dissolving capabilities with superb gloss and hydrophobic properties. Being water-phobic and easy-to-apply with fast results, this quick detailer is designed to simplify a busy life and fit nicely into your routine. It should be your go-to spray because the products we bring into our homes should always do more than just clean, they should protect and preserve.


At Undrdog, we want your things to look their very best for as long as you own them. So we want you to have every tool and resource to get your car coated with expert care. We will walk you through it.
What you need to get started:
A bottle of 

Quick Detail

 spray

Microfiber towels or terry cloths
This product cleans as you apply! Shake and mix Quick Detail very well. Make sure the surface you are applying the spray to is cool and in the shade. Mist Quick Detail. onto one section at a time, keeping the sprayer about two feet from the surface. Quickly spread the product with a soft, clean terry cloth or microfiber towel. Aim for evenness and turn to a dry towel to wipe dry. Rotate between a damp cloth or damp portion of the cloth for wiping/spreading immediately after each application spray, and continue to use the same dry towel for drying. Repeat the spray, wipe and dry process until evenly coated.
Storage
:
Always store in a cool, dry location with the lid tightly closed. 
Attention!
For Best Results, do NOT let Quick Detail self-dry. Be thorough in the drying stage after the application spray. Reapply this product frequently for maximum cleaning and protecting qualities. Each application lasts about a month. 
Ingredients:
Water: Diluent; Silicone emulsion: Protectant; Polysiloxane: Wetting agent; Isothiazolones: Preservative
Warning!
H302: Harmful if swallowed. 
If medical advice is needed, have the product container or label at hand. Keep out of reach of children. Wear protective gloves/ protective clothing/ eye protection/ face protection. Dispose of contents/container to comply with local, state and federal regulations. 
First Aid: IF IN EYES, Rinse cautiously with water for several minutes. Remove contact lenses, if present and easy to do. Continue rinsing.
What is Undrdog Quick Detail good for?
Quick Detail will reduce your maintenance by at least 50% and protect your vehicle from incidents that occur through day to day driving like bird droppings, bug accumulation, acid rain and other things of that nature. Quick Detail adds a layer of protection between your car and the elements.
Is Undrdog Quick Detail like a ceramic coating?
Yes in how it acts, but not in composition. Quick Detail is similar in the way that it beads water, it is glossy, offers protection from the elements and has a nice slickness to it, but it is different from what a protective coating would traditionally be.
How difficult is it to apply Undrdog Quick Detail?
Undrdog Quick Detail is one of the easiest, if not the easiest, spray coating to apply on the market today. With a slow flash time and weather tolerant composition it makes applying Quick Detail a breeze.
How long does it take for coating to be applied?
Applying it is very quick, use it as a drying aid after washing your car or use it when the vehicle is dry. Either way it usually doesn't take longer than 5-10 minutes.
Can Undrdog Quick Detail be applied to the interior?
Yes it can. Undrdog Quick Detail protects well on all surfaces including leather, plastics, metal and glass. However, it is not advised to use it on fabrics.
What happens if it rains immediately after I coat my vehicle?
Things happen - if it rains on your vehicle within 24 hours of having it applied, you should dry your car with soft microfibers as soon as it stops. Quick Detail is extremely hydrophobic immediately after it is applied.
How often do I have to reapply this Quick Detail?
This is totally dependent on the wear and tear that your vehicle experiences and how well you take care of it. Most users see multiple months before needing to reapply, but again it is completely dependent on aftercare.
How long will my car be protected?
The coating will last for multiple months, depending on how you take care of the vehicle. The best way to do that is to bucket wash it once a week. If you can't bucket wash it, use a touchless drive-through car wash, and if neither of those two are an option for you, then a contact drive-through car wash is also ok, just expect a reduction in Quick Detail's longevity.
Is there a specific maintenance that I need to keep doing or is it just set-it-and-forget-it?
It can definitely be a set-it-and-forget it, however to get the maximum performance and longevity, the following is recommended:


Regular car washes with our Soap and a soft wash mitt.
Regular usage of our Quick Detail will keep slickness and hydrophobicity alive.
What happens if I no longer want the coating on my vehicle?
You are stuck with it forever! Joking aside, a quick polish will remove the coating. From there you can reapply the coating or carry on without raw boring paint.
Do I need to be trained and certified to apply this coating?
No, of course not! That's another perk of Undrdog, we listened to the market and made an easy to apply and highly effective single layer coating that just about anyone can do. One of many ways we are saving you money and time.
Can I apply Undrdog Quick Detail to vinyl?
Yes, absolutely you can. Undrdog Quick Detail absorbs into the vinyl and seals it from stains, and sun fade. The coating will also make cleaning and drying a breeze.
Can I apply Undrdog Quick Detail to matte or satin finishes?
Yes you can! A common question we get asked is will it make the finish glossy. The simple answer is no, it will enrich the matte or satin finish but it will not make it glossy. It looks very nice:
Do I really need to wear gloves and proper safety gear?
Yes, when working with any chemical including ours you should wear gloves and respiratory wear. No two bodies are alike and it is better to be safe than sorry.
🔥 Everybody Loves Quick Detail 🔥
Reviews

Guaranteed Quality
Products designed for professionals and DIY-ers alike.
Need Assistance?
We're here to help! Start a chat or give us a call at 888-546-5098 (toll free).
Free Returns if You're Unsatisfied
We'll give you a full refund, no holds barred, no ifs, no buts.