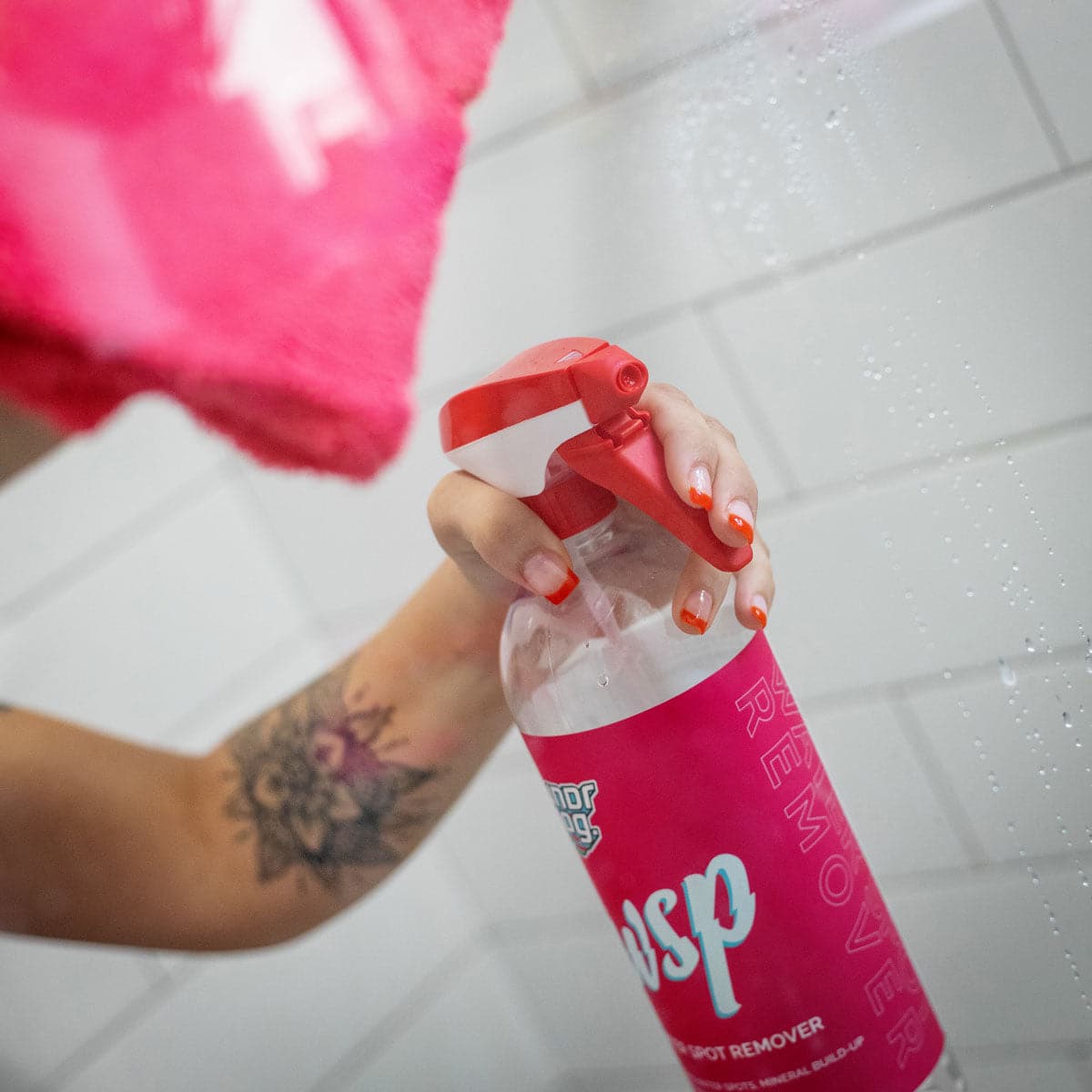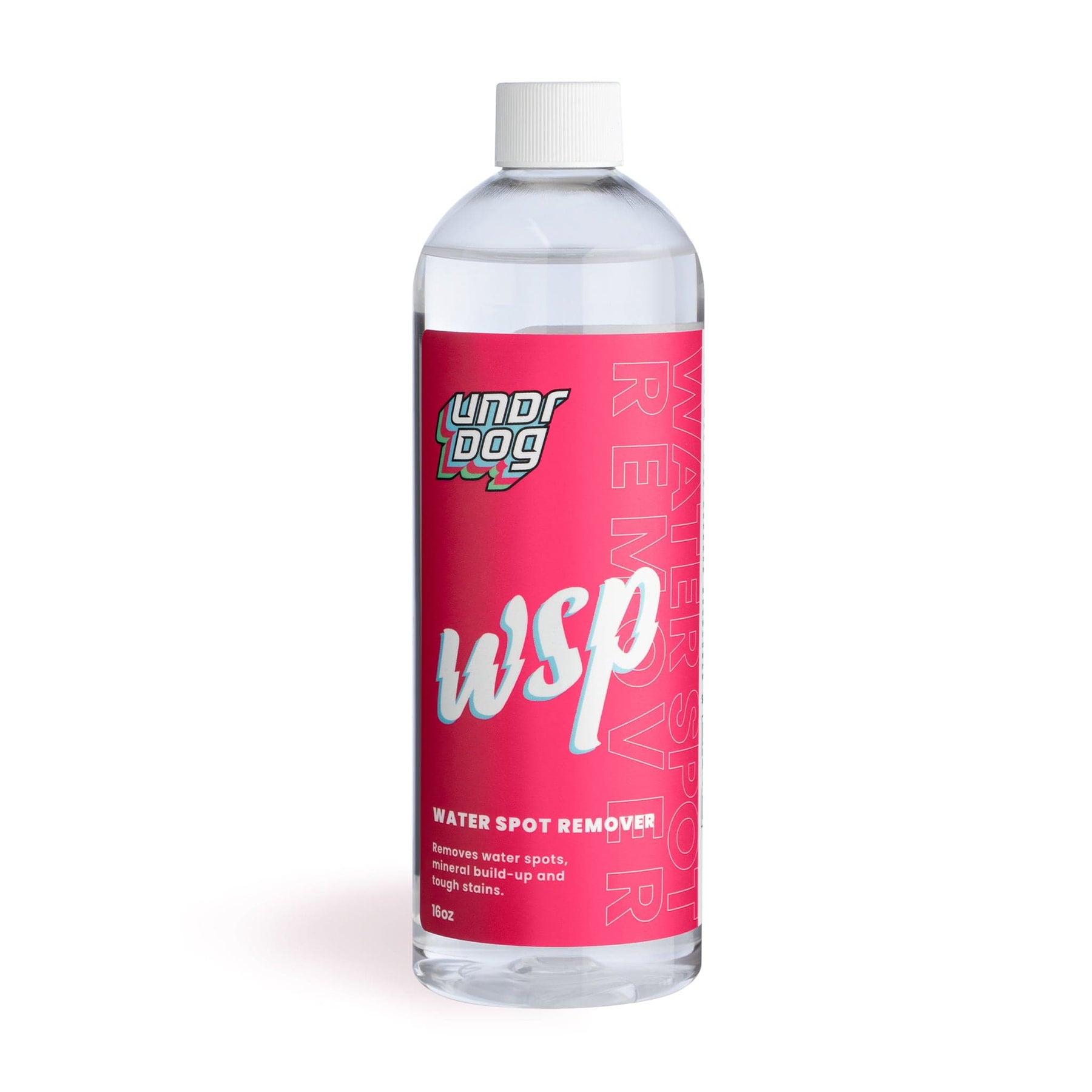 Water Spot Remover
Removes Water Spots, Mineral Build Up, And Tough Stains.
Potent and versatile water spot, scale and stain remover with an instant effect.
Pickup available at Frisco HQ
Usually ready in 1 hour
Frisco HQ
Pickup available, usually ready in 1 hour
122 Rose Lane
Suite 201
Frisco TX 75036
United States
+14697707263
Everything you need to know about Water Spot Remover
Useful Stuff 👇
Our hard water stain remover, WSP, removes water spots, mineral build-up, and tough stains. With a strong acidic mixture, it can dissolve residue and build up. Application is an easy wipe-on, rinse-off process and it can be used around the house and on windows, vehicles, RVs and vessels, and any resilient surface. Clear up and clean up your life with a water spot remover that's surprisingly useful and functionally easy for everyday and every season cleaning. 


At Undrdog, we want your things to look their very best for as long as you own them. So we want you to have every tool and resource to get your car coated with expert care. We will walk you through it. 
What you need to get started:
A bottle of WSP
Clean microfiber towel or terry cloth (at least 2)

Water and a wet towel

Hose or sprayer for rinsing.
To get started, please use protective gear. Conduct a test in an inconspicuous area to ensure the color surface is safe to be treated with our water spot remover. For a surface with new water spots, mix at 1:1 solution of WSP to water. For stubborn water spots, use as is, without diluting. Shake the bottle well and drip contents onto a microfiber towel until damp but not dripping. Lightly buff the towel on the spotted and stained areas. Rinse the area well with water. Remove all residue after.
Storage:
Always store in a cool, dry location with the lid tightly closed.
Attention!
This product can discolor certain but not all metals and plastics. Conduct a small test of the surface first to determine if it is safe to use.
Ingredients:
Water: Diluent; Sulfuric acid: Cleaning agent; Hydrofluoric acid: Cleaning agent
Danger!
H302: Harmful if swallowed. H314: Causes severe skin burns and eye damage. H332: Harmful if inhaled. H290: May be corrosive to metals. 
If medical advice is needed, have product container or label at hand. Keep out of reach of children. Do not breathe mist/vapours/spray. Wash exposed skin thoroughly after handling. Wear protective gloves/protective clothing/eye protection/face protection. Store locked up. Dispose of contents/container to comply with local, state and federal regulations. 
First Aid: IF SWALLOWED, rinse mouth. Do NOT induce vomiting. IF ON SKIN (or hair), remove/take off immediately all contaminated clothing. Rinse skin with water/shower. IF INHALED, remove affected person to fresh air and keep at rest in a position comfortable for breathing. IF IN EYES, Rinse cautiously with water for several minutes. Remove contact lenses, if present and easy to do. Continue rinsing. Immediately call a POISON CENTER or doctor/physician. Wash contaminated clothing before reuse. 
What is Undrdog WSP good for?
Undrdog WSP is excellent for removing water spots from your vehicle's paint or glass. It can easily eliminate built up water spots from sprinklers, rain, sea air etc. If WSP doesn't do the trick you likely need to have the area polished or sanded to remove etching.
What is the difference between a water spot and water spot etching?
Great question, these oftentimes get confused as the same issue. The best way we have found to explain this is a water spot is the mineral build up on top of the paint. Water spot etching is the damage left behind by these minerals. Imagine a water spot being the high spot - like a mountain, and the etching being a low spot - like a canyon. Once etching occurs the only way to remove this is through polishing or wet sanding.
What happens if the WSP dries on my vehicle?
You are screwed. This time we mean it - do not let it dry on any surface on your vehicle. It can cause damage if left for too long on the right kind of paint or glass. To be safe, we suggest using this with two towels, one towel to apply the WSP, the other soaked with water to remove any WSP residue. We don't mean to scare you, we just want to inform you of the possible risk factors. As long as you follow the instructions and use this in the shade there should be no worries.
Can I use Undrdog WSP on matte or satin finishes?
Yes you can, our WSP is a great remover for all finishes.
Can I use Undrdog WSP on vinyl wraps?
Yes you can.
Do I really need to wear gloves and proper safety gear?
Yes, when working with any chemical including ours you should wear gloves and respiratory wear. No two bodies are alike and it is better to be safe than sorry.
🔥 Everybody Loves Water Spot Remover 🔥
Reviews

Guaranteed Quality
Products designed for professionals and DIY-ers alike.
Need Assistance?
We're here to help! Start a chat or give us a call at 888-546-5098 (toll free).
Free Returns if You're Unsatisfied
We'll give you a full refund, no holds barred, no ifs, no buts.