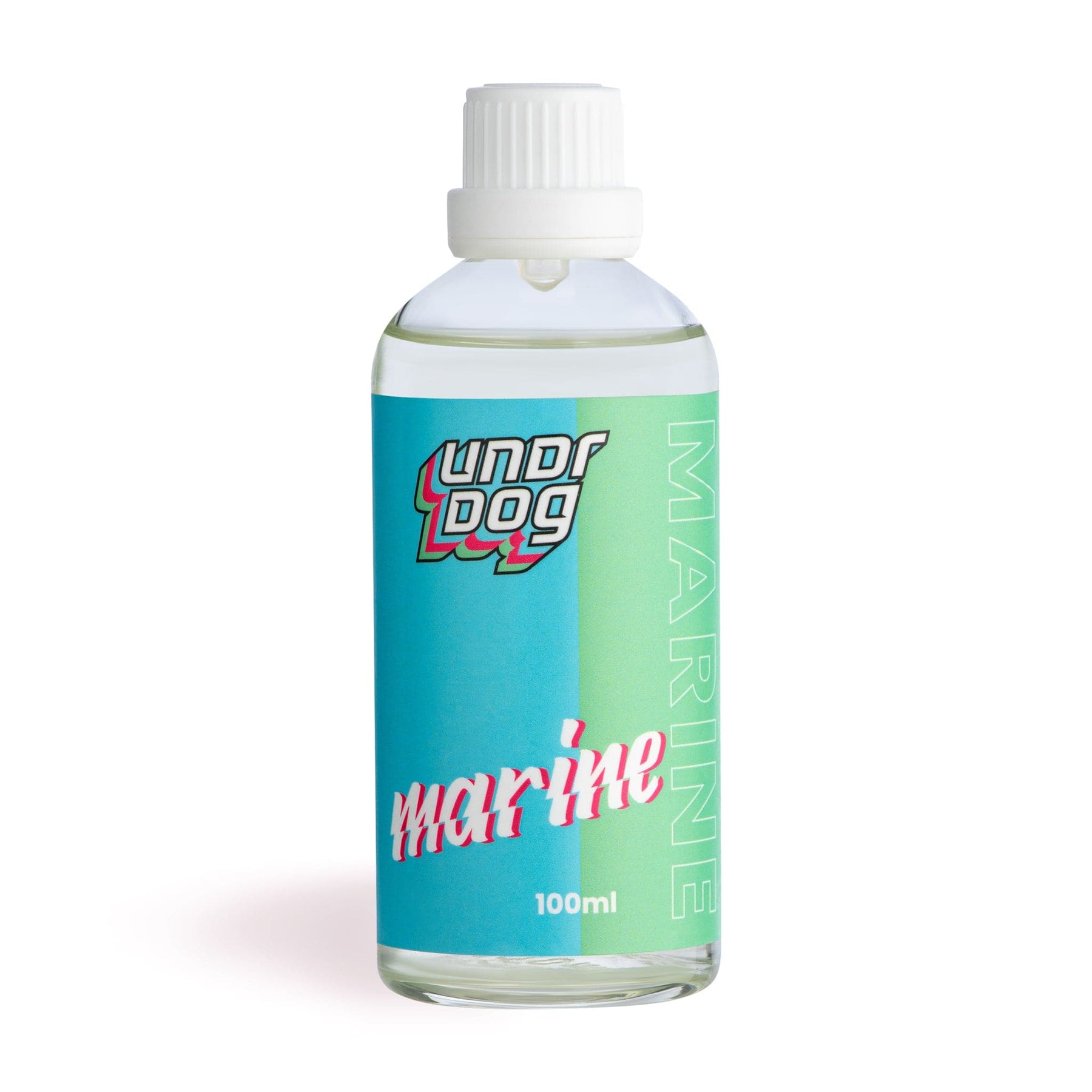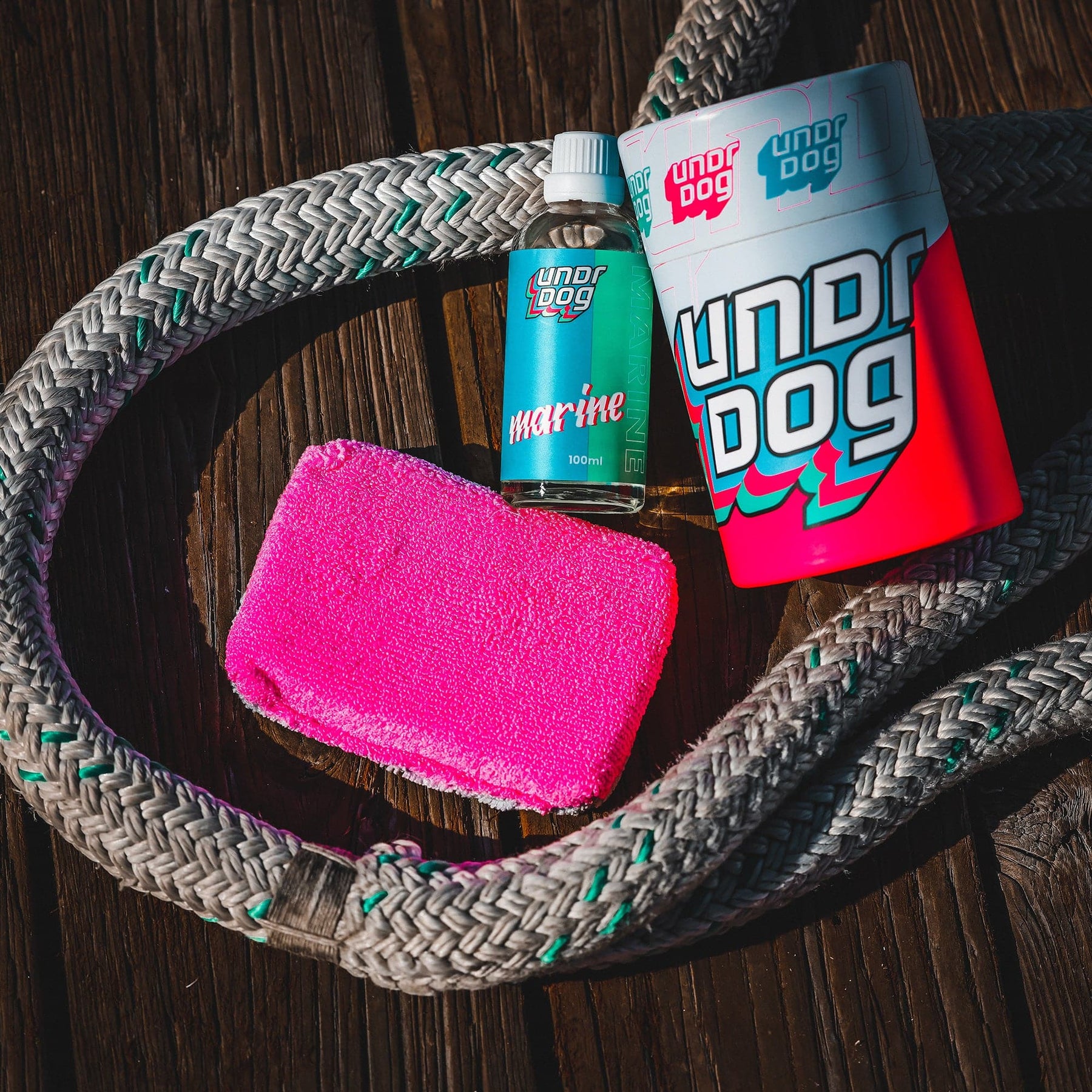 Undrdog Marine
Professional Grade Protective Coating for Boats
Reduces maintenance washes, provides gloss and protects from bug and spider poop, sun rays, algae stains, mold, tannin staining, accidental spills, oxidation, and more.
Pickup available at Frisco HQ
Usually ready in 1 hour
Frisco HQ
Pickup available, usually ready in 1 hour
122 Rose Lane
Suite 201
Frisco TX 75036
United States
+14697707263
Everything you need to know about Undrdog Marine
Useful Stuff 👇
Undrdog Marine (100ml) is the best professional grade protective coating for all kinds of boats and vessels. It is based on Polytetrafluoroethylene - (C2F4)n, Silicon and Paraffin. It might sound like a mouthful, but rest assured that these compounds together are what's making Undrdog Marine better, cleaner and stronger.
Each one of these three main ingredients are incredibly resistant to chemicals, UV rays from the Sun, oxidizers, external contaminants, heat and water spots (something ceramic coatings have trouble contending with). However, combined together in Undrdog Marine, these three ingredients create the trifecta of awesomeness: durability, performance and value.

This is what makes Undrdog Marine the new leading choice amongst the country's best professional marine detailers.

We at Undrdog are not in the market of selling buzz. We sell super efficient, affordable surface protection and cleaners. That's why we decided to depart from the standard set of industry-specific buzzwords like "ceramic", "graphene", "titanium" and "nano". We would even go a step further saying that none of those words mean anything in a protective coating and that these terms are just marketing gimmicks. Haven't you asked yourself where's ceramic in a ceramic coating? These are all bold buzzwords that give the illusion of durability - but are ultimately hollow and meaningless. Your coffee mug isn't made from SiO2, is it? Nope… that's because your coffee mug and toilet are actually ceramic. Let's just call things what they are - protective coatings.
Instructions
What's Needed:
Brand new microfiber towels
Wax and grease remover or denatured alcohol
Adequate lighting
Timer
Gloves
Face Mask
Undrdog Marine is designed to have a slow flashing period allowing you to apply the coating to the entire vessel prior to wiping away the residue. Undrdog Marine can be applied in most weather conditions with ease. Avoid applying in freezing or on extremely hot surfaces.
To Start:
1- Prep the surface by wiping all surfaces with denatured alcohol or a body shop wax and grease remover. Be sure to use fresh clean towels. Once finished you may begin coating.
2- Prime your applicator pad by dripping 15-20 drops of Undrdog Marine onto the pad. You want the pad to be damp with product. Throughout the entire coating process, make sure to keep your applicator pad damp by continually adding Undrdog to the pad, as needed, to maintain an even coating.
3- To begin, apply Undrdog Marine evenly to one panel. We suggest starting on the roof of the vehicle and working your way to the hood and around the entire vehicle.
4- Apply one panel at a time in a cross-hatch motion. This means applying the applicator pad in a vertical and then horizontal motion to ensure complete and total coverage of each panel
5- Complete as much as you can within a 7-10 minute time frame.
6- Once the area is coated and the product has flashed for no less than seven to ten minutes you may begin wiping. We suggest using at least three towels for this process and working one panel at a time in the order they were applied. Start with your first panel - use one towel to wipe off Undrdog Marine, one towel to buff off any remaining residue; and one as a final wipe down to ensure no residue is left behind.
7- Repeat step 6 until the entire vehicle has been wiped and all the coating residue has been removed. 
8- Check the vehicle for any residue and congratulate yourself on a job well done
Applying Undrdog Marine to wood, leather and plastics:
1- Prime your application pad. Apply several drops of Undrdog Marine (15 – 20 drops) to your pad. Keep the pad damp by re-applying as needed throughout the coating process.
2- Apply Undrdog Marine evenly to all of the plastics, trimmings leather etc. Once the desired appearance is achieved do not touch for 24 hours.
Drying time and immediate after care:
Once you are done applying Undrdog Marine wait three hours for it to completely dry. Wait 24 hours before getting your boat wet. Do not wash with detergents for 1 week. Once a full week is up, use a PH balanced soap for striping dirt and grime to maintain your coating. Our Soap is perfectly compatible with all coatings. The most important thing besides washing your vehicle is drying! Always dry your vehicle after it gets wet.
For best results:
Aim to coat in a cool shaded area - but you can apply Undrdog Marine in direct sunlight. Make sure your environments temperature is above 45° and below 110° F when applying. Keep your area contamination free. Use in well ventilated area, always wear gloves and face mask when working with chemicals
Storage:
Always store in a cool, dry location with the lid tightly closed.
For more information on product usage, check out this help center article. To get answers on frequently asked questions about Undrdog Marine, check out this one.
Attention!
For Best Results wear gloves, protective eye wear and a face mask. Apply the product in a well ventilated area. 
Ingredients:
Silicone, Bis-ethoxydiglycolcyclohexane 1,4 Dicarboxylate, PTFE, Paraffin Wax
Warning!
Signal: Danger
GHS Hazard Statements
H315: Causes skin irritation [Warning Skin corrosion/irritation]

H319: Causes serious eye irritation [Warning Serious eye damage/eye irritation]

H331: Toxic if inhaled [Danger Acute toxicity, inhalation]

H335: May cause respiratory irritation [Warning Specific target organ toxicity, single exposure; Respiratory tract irritation]

H400: Very toxic to aquatic life [Warning Hazardous to the aquatic environment, acute hazard]

If medical advice is needed, have the product container or label at hand or refer to the website www.getundrdog.com. Keep out of reach of children. Wear protective gloves/ protective clothing/ eye protection/ face protection. Dispose of contents/container to comply with local, state and federal regulations.

First Aid: IF IN EYES, Rinse cautiously with water for several minutes. Remove contact lenses, if present and easy to do. Continue rinsing.
What is Undrdog Marine good for? 
It will reduce your maintenance by at least 50% and protect your vessel from incidents that occur through day to day boating or storage, like bird droppings, bug accumulation, acid rain and other things of that nature. A coating adds a layer of protection between your vessel and the elements. 
Is Undrdog Marine like a ceramic coating? 
Yes, it's similar: it beads water, it is glossy, offers protection from the elements. However, as we listen to the market and adapt to fix the most critical pain points, we make it way easier to install, which in turn makes it more affordable for both the installer and the customer. 
How difficult is it to apply Undrdog Marine?
Undrdog Marine is one of the easiest if not the easiest coating to apply on the market today. With a slow flash time and weather tolerant composition it makes applying this single layer coating a breeze. 
Can Undrdog Marine be applied to the interior? 
Yes it can. Undrdog Marine protects well on all surfaces including vinyl, plastics, metal and glass. However, it is not advised to use it on fabrics. 
What happens if it rains immediately after I coat my vessel?
Things happen - if it rains on your boat within 24 hours of having it coated, you should dry your vessel with soft microfibers as soon as it stops. Be conscious of damages. We've seen that 95% of the time no damages occur, but in the event they do, you can apply another layer. The best thing to do of course is keep it out of the rain while your coating dries. 
How often do I have to reapply this coating? 
This is totally dependent on the wear and tear that your vessel experiences and how well you take care of it. Most users see a couple years before needing to reapply, but again it is completely dependent on aftercare. Remember that aftercare is greatly reduced by having Marine applied. 
How long will my vessel be protected? 
The coating will last for a couple of years, depending on how you take care of your vessel. The best way to do that is to wash it once a week or every other week when in use. And always dry after an outing. 
Is there a specific maintenance program that I need to keep doing or is it just set-it-and-forget-it?
It can definitely be a set-it-and-forget it, however to get the maximum performance and longevity, the following is recommended:
Regular vessel washes with our Soap and a soft wash mitt or brush. 
Regular usage of our Quick Detail, a product that can add some slickness and hydrophobicity for those looking to get the most out of their coating. 
What happens if I no longer want the coating on my vessel?
You are stuck with it forever! Joking aside, a quick polish will remove the coating.  From there you can reapply the coating or carry on without it. 
Do I need to be trained and certified to apply this coating?
No, of course not! That's another perk of Undrdog, we listened to the market and made an easy to apply and highly effective single layer coating that just about anyone can do. One of many ways we are saving you money and time.
Can I apply Undrdog Marine to vinyl wraps?
Yes, absolutely you can. Undrdog Marine absorbs into the vinyl and seals it from stains, and sun fade. The coating will also make cleaning and drying a breeze.
Can I apply wrap or stickers over the coating?
Typically not, because the coating has anti-stick properties, and it's typical for wraps or stickers to delaminate if applied over the coating. We recommend getting your wrap or stickers applied prior to coating application.
Do I really need to wear gloves and proper safety gear?
Yes, when working with any chemical including ours you should wear gloves and respiratory wear. No two bodies are alike and it is better to be safe than sorry. 
🔥 Everybody Loves Undrdog Marine 🔥
Reviews

Guaranteed Quality
Products designed for professionals and DIY-ers alike.
Need Assistance?
We're here to help! Start a chat or give us a call at 888-546-5098 (toll free).
Free Returns if You're Unsatisfied
We'll give you a full refund, no holds barred, no ifs, no buts.